Inside Our Ultra Soothing CBD + CBG Body Butter
How our Outer Space Body Butter can help soothe, nourish & repair your skin
First things first, we have a confession to make. This isn't actually a body butter. While we feel that "butter" is the best way to describe the luxurious texture and rich moisturization qualities, for it to really be a "butter" all of the ingredients would have to be butters (cocoa, shea, etc) and oils. There are water-based ingredients in our ultra-soothing body butter, though. That's what gives it the power to be so damn special!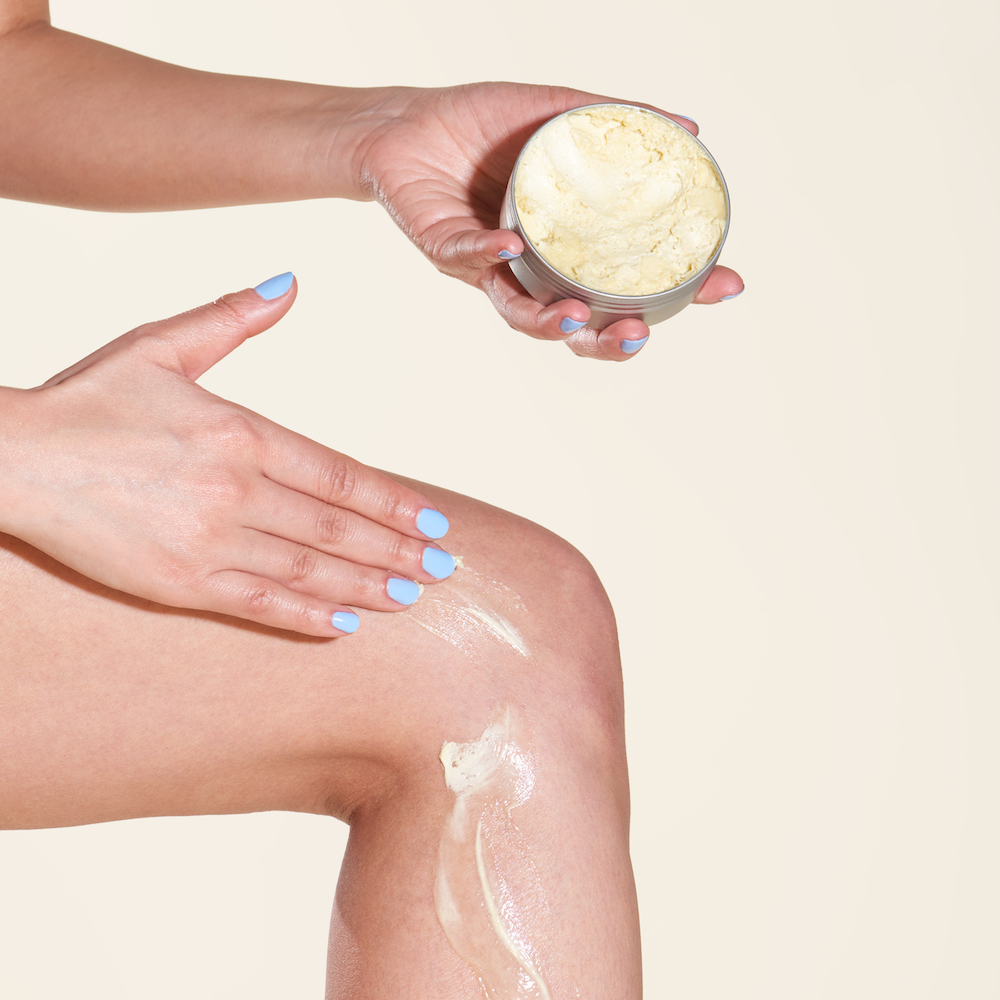 The powerfully healing and restorative botanicals like Gotu Kola, Marshmallow Root, and Bilberry are water-soluble, meaning that they need to be extracted and dissolved in water; they will not dissolve in oil. So, to provide you with the power of plants to the fullest healing potential, while simultaneously providing an extra splash of hydration, we dissolve those actives in a mixture of aloe vera gel and vegetable glycerin (an amazing humectant that traps moisture at the skin's surface). From there, we use our super sustainable hemp wax (more on that later) to bind the water-based ingredients to the oil-based ingredients like shea, mango and cocoa butters, cold-pressed plant oils and cannabinoids.
Now that we have gotten past the semantics, let's dive into the good stuff!
The Benefits
When we say this is a butter like no other, we really mean it. Packed with performance-driven ingredients, our ultra-soothing body butter goes further to deliver powerful healing and nourishing results. Here are some of the primary benefits our careful combination of plant-based ingredients delivers:
Repair and Protect
Outer Space Body Butter contains super moisturizing, antioxidant-rich, plant-derived butters and oils packed with essential fatty acids which are critical for healthy, glowing skin. It also boasts a special ingredient called Soline®. Soline is a patented concentration of precious molecules extracted from sunflowers. It is clinically proven to not only moisturize but actually increase the synthesis of key components of the skin's barrier.
Firm & tighten
Gotu Kola firms and tightens by increasing collagen synthesis and boosting circulation. Cardamom and sandalwood essential oils work synergistically towards this same goal while providing warming, grounding effect.
Fight signs of aging & skin damage
Bilberry fruit is an antioxidant powerhouse, made all the more effective when teamed up with our mindful combination of cannabinoids and oils. Both grapeseed and black seed oils, as well as CBD and CBG, are rich in free-radical fighting antioxidants, while apricot kernel and sunflower oils contain high concentrations of vitamins A and E. They all come together to keep skin looking and feeling healthy, reducing signs of damage and aging.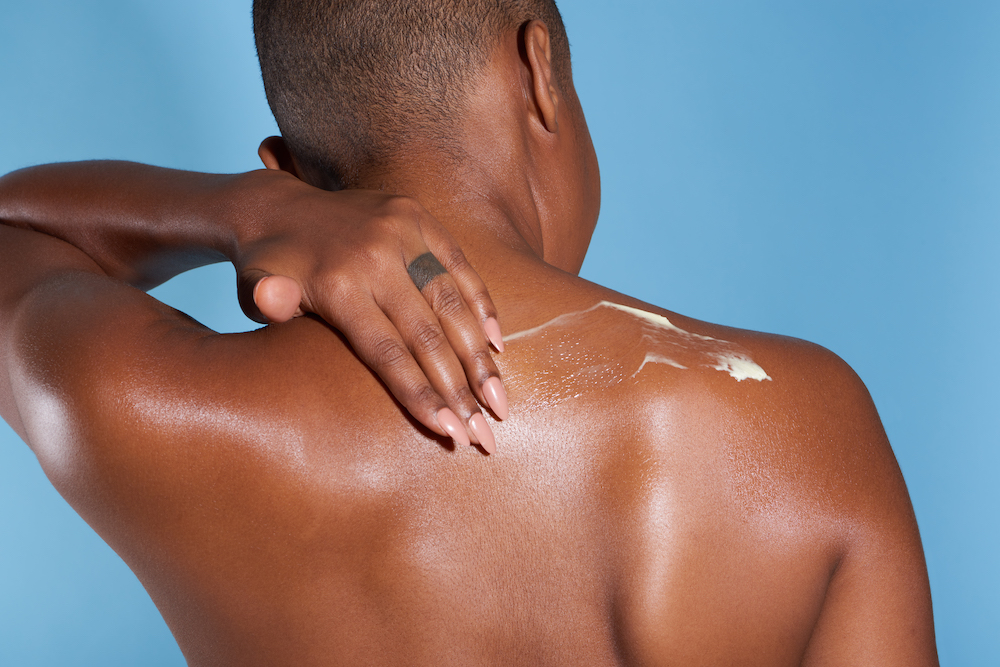 Soothe inflammation & calm irritation
CBD and CBG both provide amazing anti-inflammatory benefits. When combined with marshmallow root extract, known for its soothing, calming abilities, you get a completely natural and effective solution for managing troubled skin. Mango butter and black seed oil also play a key role in delivering these effects.
Hydrate and lock in moisture
CBG has been shown to increase moisturization by spurring the production of skin's natural oils in the cases of dry skin. Aloe vera and vegetable glycerin provide deep hydration to your skin cells and the fatty acid-rich butters and oils seal in that moisture and prevent trans-epidermal water loss. The water-based ingredients hydrate. The oil-based ingredients prevent that hydration from escaping while nourishing and softening the skin, leaving you with a healthy glow.
Improve skin tone and texture
This is once again mostly thanks to the power of fatty acids and antioxidants, but they don't get all the credit. The powerful phytonutrients in Gotu Kola, Marshmallow Root and our amazing mix of therapeutic grade essential oils are pulling some weight as well!
Ingredient-by-Ingredient Breakdown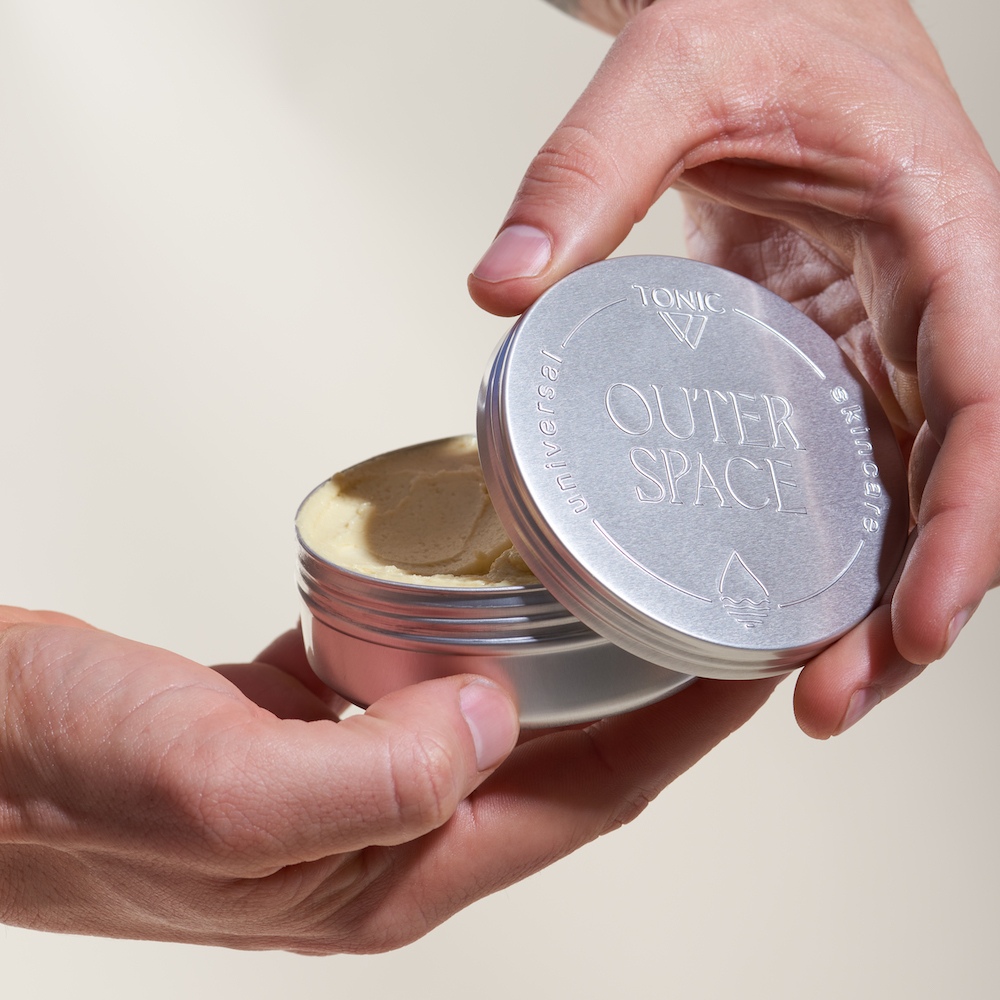 The Cannabinoids: 500mg CBD, 250mg CBG
Skin-deep cannabinoid signaling plays a huge role in restoring and maintaining your skin's homeostasis – balancing oil production, inflammation, even hair growth. Both CBD and CBG provide potent antibacterial and antioxidant action while calming irritation/inflammation. That's not the only reason we included CBG in this formula, though. CBG has actually been shown to spur something called 'lipogenesis', which creates fats and oils in the skin. Sluggish lipogenesis means dry skin – not enough oils are being produced to keep the skin moisturized… enter CBG! By signaling lipogenesis in your sebaceous glands, CBG helps to keep skin moisturized by producing a healthy amount of oil.
Gotu Kola Extract
A multitasking herb widely respected by herbalists for its reparative and soothing properties. Got Kola provides a soothing effect while promoting blood flow, skin cell growth, and collagen synthesis. In doing so, Gotu Kola can help to prevent stretch marks, manage cellulite, and generally firm and tighten your skin. Due to this remarkable ability, the extract has often been called 'botox in a bottle.' It possesses antimicrobial properties, which means it's helpful for acne-prone skin, and it's a great source of phytonutrients called flavonoids, which act as antioxidants and fight off free radical damage.
Marshmallow Root Extract
Marshmallow root is best known for its ability to soothe redness, relieve inflammation, and help retain moisture, making it a fantastic herb for those with sensitive, easily irritated skin. The roots of the marshmallow plant contain a thick, gummy substance called mucilage. The mucilage is extracted from the root and used for its therapeutic value, but in addition to mucilage, the root extract contains a number of other ingredients that promote skin health, such as polysaccharides and flavonoids. The anti-inflammatory properties of the extract make it a great choice for people with problem skin, such as sufferers from eczema or rosacea.
Bilberry Fruit Extract
Bilberry is one of the best sources of antioxidant compounds known as anthocyanins, polyphenolic chemicals that give bilberries their dark color. Not surprisingly, bilberries are similar to blueberries. Applied to the skin, bilberry is known to strengthen skin against signs of redness, likely due to its calming properties.
Bilberry can also boost the skin's environmental defenses in the presence of UVA light. Bilberry leaves contain arbutin, a compound that has the ability to lighten and brighten the skin. This natural glycoside helps to stop hyperpigmentation, brightening skin, and preventing age spots.
Soline®
This patented concentrate of precious molecules from linoleic sunflower oil, sustainably sourced from France, creates an intelligent, lipid-replenishing, soothing moisturizer that stimulates the synthesis of key components of the skin's barrier.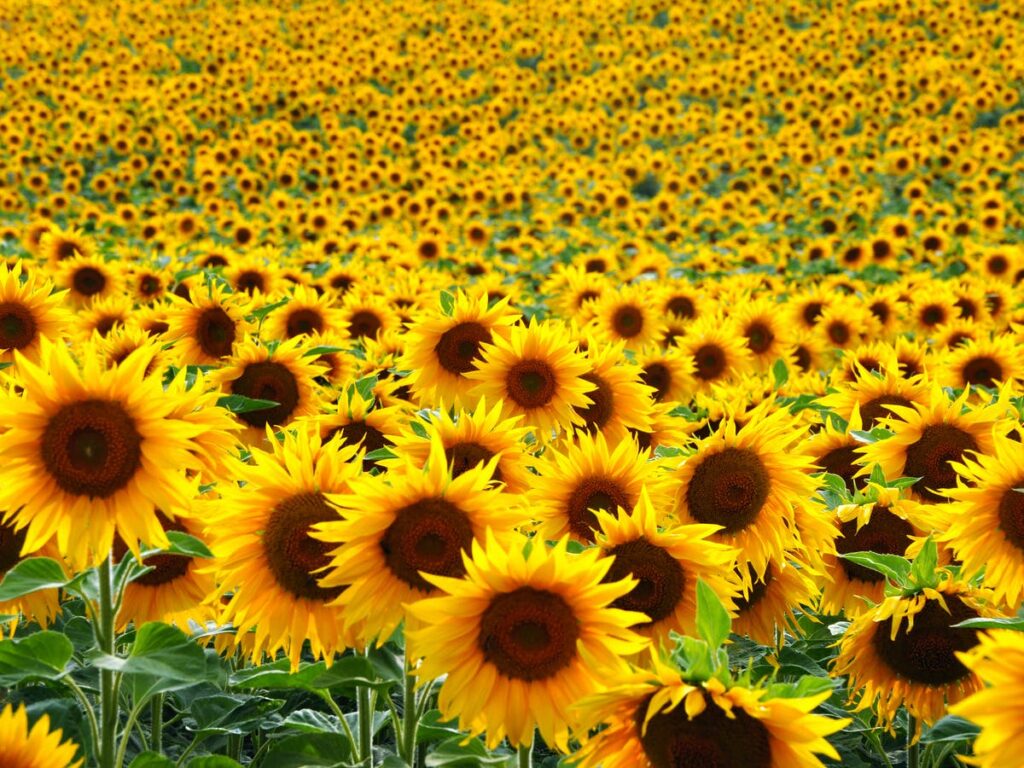 A clinical study on the moisturizing effects of Soline showed that after a single application there was an immediate increase in moisturization: 48.6% moisturization 1 hour after application with lasting effects shown by the +34.2% moisturization after 24 hours. After 4 weeks of 2x/day application, a 52% improvement in the surface appearance of the skin was observed. Dryness, roughness, and desquamation showed significant improvement.
Black Seed Oil
Black seed oil has been clinically researched and validated for its antibacterial and anti-inflammatory properties, containing over 100 nourishing vitamins, minerals, and antioxidants to help clarify, smooth, and heal the skin. With consistent use, black seed oil has been shown to fade dark spots caused by aging, hormones, and/or sun damage.
A 2015 study from the Journal of Dermatology[…] displayed quick improvement of eczema among participants who applied black seed oil to the affected area 2x/day for 4 weeks. Can help unclog pores and promote clarifying effects through its antibacterial properties.
Apricot Kernel Oil
Apricot kernel oil provides substantial moisturization and deeply nourishes without clogging pores or leaving skin feeling greasy. Rich in fatty acids such as gamma-linoleic, oleic and stearic acids. Gamma-linoleic acid helps skin maintain moisture balance, fights inflammation, and promotes circulation. Oleic acid softens skin and maintains suppleness, reducing the appearance of fine lines and wrinkles. Finally, stearic acids aid in clearing excess sebum (oil), dirt, or sweat from pores.
Vitamin E and A content promote radiance and healing while helping to slow the signs of aging.
Grapeseed Oil
Largely known for its anti-microbial and anti-inflammatory properties, grapeseed oil also contains high amounts of omega fatty acids and vitamin E2. The strong antioxidant capacities of grapeseed can help reduce the signs of aging, such as sunspots, fine lines, and wrinkles.
Grapeseed oil is excellent for treating oily or acne-prone skin because it's high in linoleic acid, which in addition to fortifying the skin's barrier and helping to reduce water loss from the skin, may help with inflammation and acne. Studies have shown that it can help speed up the healing process and decrease the formation of keloid scars. Studies have also shown that grapeseed oil can protect against sun damage and promote collagen repair.
Sunflower Oil
Sunflower Oil is rich in linoleic acid, an essential fatty acid that studies have shown can help maintain skin's natural moisture barrier and prevent trans-epidermal water loss — a key cause of skin dryness. Sunflower Oil for the skin can help keep moisture in and also has been shown to have anti-inflammatory benefits, making it a great option for those with skin sensitivities.
The oil is rich in vitamin E, a protective antioxidant. It also contains vitamin A, vitamin C, vitamin K, and vitamin D, which help to fight the free radicals that can cause premature aging. For those with sensitive or mature skin, the benefits of sunflower oil include its gentle, calming properties and ability to soothe.
Hemp Wax
Ok, the really cool thing about this ingredient is the story behind it. The benefits are along the lines of what you would expect – rich in omega 3, 6, and 9 fatty acids, helps to protect the skin barrier and trap moisture – but the impact is so much greater. In applications like salves, butters, or balms, there is usually a wax component and that wax component is usually beeswax. Not only does this cause an issue for Vegans who want skin-soothing benefits, but it also raises a lot of questions around sustainability and ethical sourcing. There are definitely some vegan wax alternatives out there, but we decided to look at the materials we already have on hand here at Bardo Labs – the hemp extraction, product development, and manufacturing arm of our operation – to see if there was a more sustainable solution.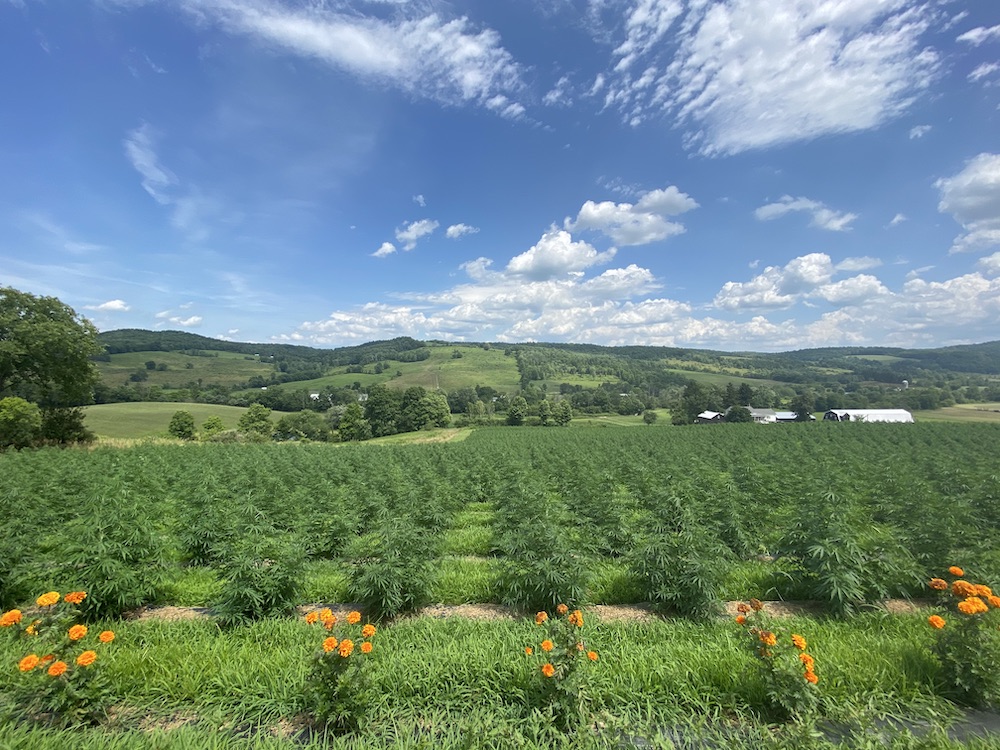 Turning Trash into Treasure
One of the primary byproducts of refined CBD extracts is wax. After the primary CO2 extraction of the material, we are left with a crude extract that now needs to go through a process called winterization. Winterization involves dissolving that crude extract in ethanol and putting it through multiple rounds of filtrations to pull away from the waxes and lipids and leave us with a much purer, more refined, and cannabinoid-rich material. But then what happens to those waxes and lipids? Most labs dispose of them and consider them waste. But, here at Bardo and TONIC, we knew we could do better.
We clean up the waxes by putting them in a vacuum oven. It heats up the material to a high enough temperature for the ethanol to evaporate, but the key is the 'vacuum' part. Being under vacuum means that all of the gases are being sucked out of the oven once they evaporate off of the wax. The chance of re-condensation is eliminated once the gases are vacuumed out. After all that, we are left with a hard, dark green wax that can now be used in multiple downstream applications. Essentially, we are turning our waste into valuable input material for a variety of products!
Shea Butter
Shea butter is a plant lipid that comes from African shea tree nuts and is rich in fatty acids, antioxidants, and vitamins. Shea butter's polyphenols (antioxidants) have anti-aging benefits and properties similar to those found in green tea. Shea butter also contains five essential fatty acids (a major amount coming from stearic and oleic acids), a category which includes phytosterols, vitamins E and D, allantoin (good for healing skin irritations), and vitamin A. It is known for its hydrating and ultra-soothing effects.
Mango Butter
Mango butter, a fat derived from mango seeds, is packed with antioxidants and works as an emollient to soften the skin. Mangoes have proved to be effective in soothing irritated skin and reducing symptoms of eczema and psoriasis. Part of what makes it such a healing ingredient is that it contains great amounts of vitamins A and C.
Vitamin C is great for healing, brightening, and regenerating your skin, while Vitamin A helps to increase the skin's youthful appearance, reducing fine lines.  Since mango butter is a rich moisturizer, it is very soothing and healing. Mango butter can be used to soothe sunburn and to heal minor wounds. Its damage-repairing properties help to mend the skin and leave it healthier and smoother.
Cocoa Butter
Cocoa butter is high in antioxidants, which help fight off skin-damaging free-radical damage, reducing the appearance of dark patches, and dull skin. It is also an anti-inflammatory which means it can calm irritated skin and keep skin looking and feeling healthy. Cocoa butter has also been shown to reduce stretch marks and scars. It's a rich moisturizer, high in fatty acids, and able to hydrate the skin deeply. It contains oleic, palmitic, and stearic acids, all of which nourish the skin.
Neroli Essential Oil
Neroli has a grounding yet refreshing citrus aroma – the scent is often cited for its use in aromatherapy as it can reduce the levels of cortisol in the brain – but it is its skin-saving benefits that made it such a clear choice for our Body Butter.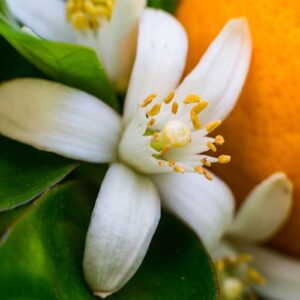 Neroli oil helps with skin cell regeneration, giving it anti-scarring properties. Along with its regenerative qualities, neroli oil is also antiseptic, antibacterial, anti-inflammatory, and helps to soothe soreness. This makes it useful to treat pimples and acne and reduce the redness associated with breakouts. It can also be used to treat oily skin, reduce fine lines and hydrate all skin types.
Sandalwood Essential Oil
In addition to its warming, grounding aroma, Sandalwood can provide benefits for the mind and body. Active compounds in Sandalwood, such as Santalol, work to effectively reduce inflammation. The essential oil has calming aromatherapy properties, helping to create a feeling of relaxation and peace and reducing feelings of anxiety.
For dry skin, sandalwood can penetrate deeply to deliver an intense dose of moisture. It has also been shown to gently tone the skin and tighten the appearance of wrinkles. With its calming compounds, sandalwood has the ability to renew the complexion even for those who suffer from psoriasis, eczema, rosacea or hyperpigmentation.
Sweet Orange Essential Oil
A bit of sweet orange essential oil provides an uplifting citrus note to the butter's scent profile while providing amazing benefits to your skin. Sweet orange oil can reduce dark spots and blemishes via its vitamin C content. It fights off free radicals to prevent premature skin aging and its antibacterial properties help fight acne. Sweet orange can also boost skin circulation and promote cell growth!
Cardamom Essential Oil
Cardamom provides a warm, spicy note to the butter's aroma. That warming scent translates to boosting circulation and blood flow when applied topically. The essential oil has antibacterial, antiseptic, and antimicrobial properties that make it useful in preventing and healing breakouts. Cardamom essential oil can renew skin cells and reduce signs of aging.
Cardamom helps promote skin elasticity, protect the skin from environmental and UV damage, and keep you looking young and radiant. It also helps tone the skin and shrink pores.
Vanilla Oleoresin
The niacin, thiamin, and pantothenic acid found in vanilla essential oil help promote skin health, keeping skin clear of acne and fending off free radical damage. It can also help prevent wrinkles, fine lines, and age spots.
Nerolidol (terpene)
The really cool thing about Nerolidol is that its presence in the formula can actually enhance the absorption of the other ingredients! It is a skin penetration enhancer, making each ingredient you just read about that much more effective.
That's not all, though. It possesses antifungal, antibacterial, and antioxidant properties as well!
Is Our Ultra Soothing Body Butter Right For You?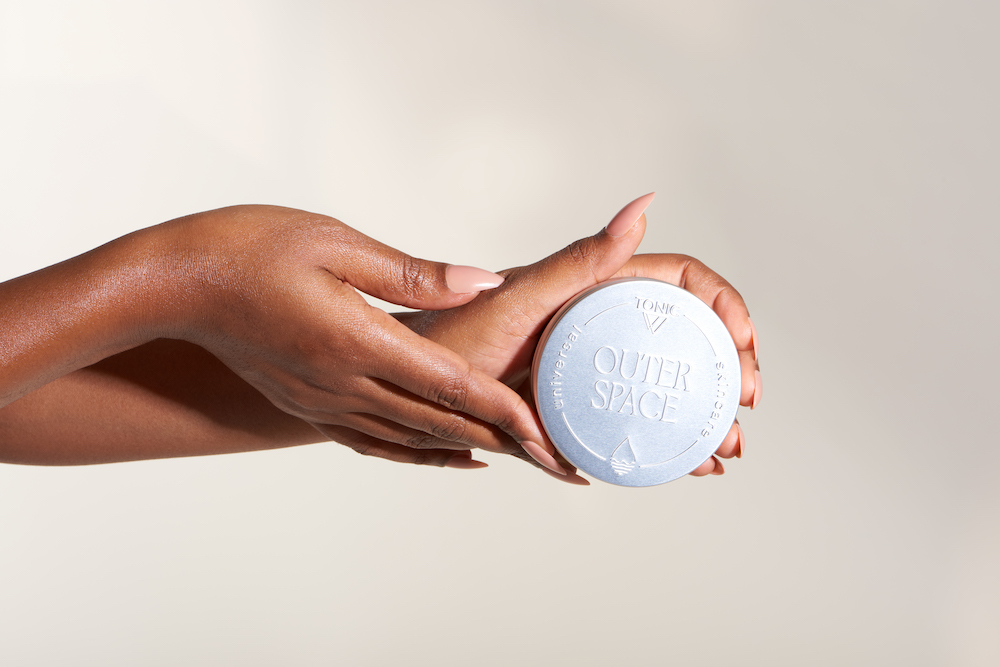 We recommend this product for dry, irritated, and/or sensitive skin, 0r for skin in need of a glowing, firming boost!
It is also highly recommended to prevent new stretch marks from forming and from reducing the appearance of existing stretch marks.
Use it to calm inflammation and redness caused by eczema or rosacea, or use it to even out skin tone and texture. It is gentle enough for even the most sensitive skin, and while it may go on rich and luxuriously, it absorbs quickly and doesn't clog pores!
While there are no hard and fast contraindications, avoid use if you are allergic to any of the ingredients. It is safe for those with nut allergies; shea butter is the only tree-nut-derived ingredient, but research shows that it does not cause a reaction for those with peanut or tree nut allergies.
The formula uses only pure essential oils, as well as the sesquiterpene Nerolidol. It is absent of any synthetic fragrances. Our Body Butter is also free of any harsh chemicals, parabens, dyes, sulfates, phthalates, and SLSs. It is completely vegan and made with natural, plant-based ingredients.