Cooking with CBD: Infused Winter Squash Soup
Winter Squash Soup with Maple Cream and Flex TONIC
A collaboration with Monica Lo, creator of Sous Weed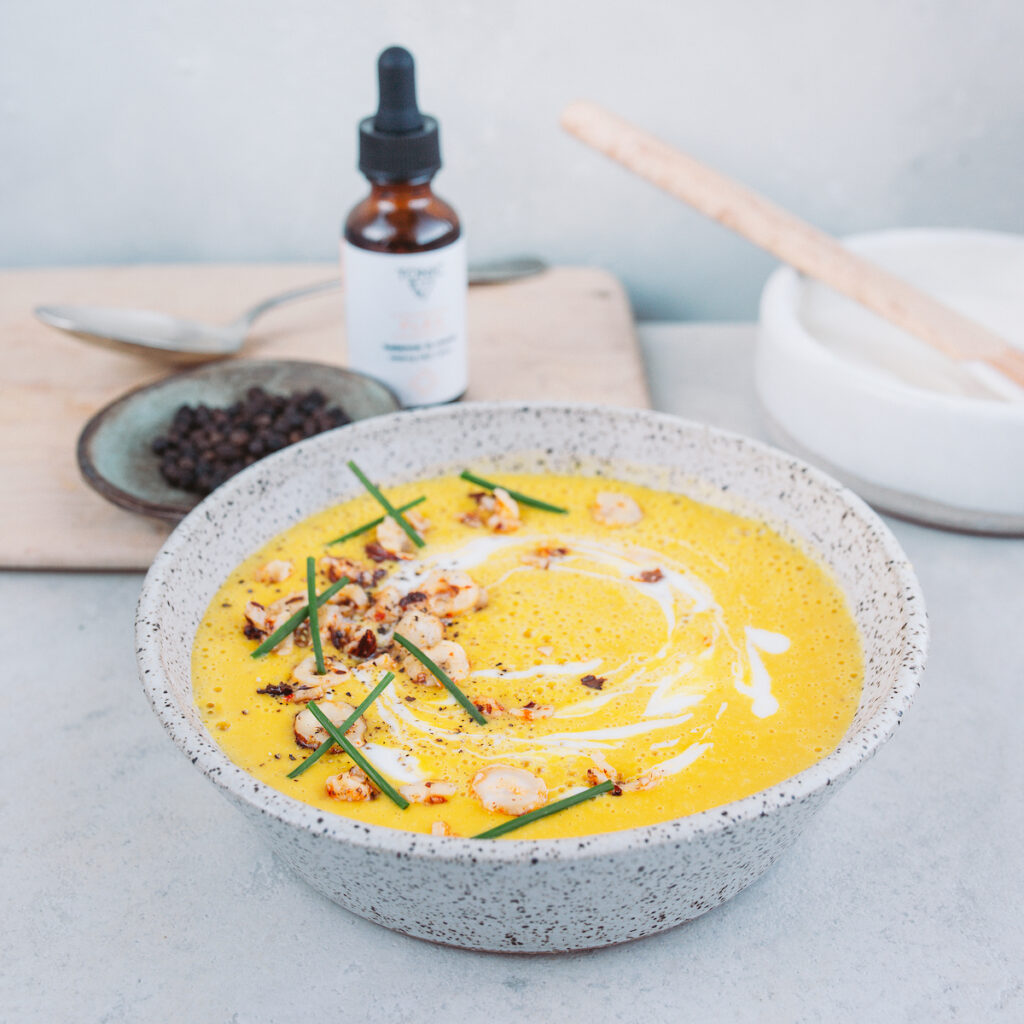 Butternut squash gets all the love, but have you met kabocha?
Kabocha is the squat, lumpy squash with dark green skin and a dull finish. No, she's not most beautiful squash at the market but she is incredibly sweet, and a little nutty. Kabocha is a Japanese variety of winter squash with an edible rind that's wonderful steamed, roasted, boiled in porridge, or pureed. I'll often opt for roasted kabocha puree as a substitute for any recipes using canned pumpkin.
This winter squash is also great in a comforting bowl of soup. I made a CBD-infused coconut cream to drizzle on top using Flex TONIC. This tincture is phytonutrient-rich with a combination of full spectrum hemp CBD, cold-pressed black seed oil, and pure
maple. The kick from the black seed oil adds a sharpness to cut through the richness of the soup. This is a wonderful make-ahead dish for meal planning or for the holidays!
Winter Squash Soup with Maple Cream and Flex TONIC
Serves 4
Dosage: 16.5mg Full Spectrum Hemp CBD per serving
Roasted Squash Ingredients 
• 1 medium kabocha squash
• 2 Tbsp olive oil
• 1 Tbsp kosher salt
Infused Cream:
• 1/4 cup coconut yogurt, unsweetened
• 2 full droppers Flex TONIC
• 1 Tbsp maple syrup
Soup Ingredients:
• 2 Tbsp olive oil
• 1 large shallot, chopped
• 2 cups vegetable broth
• 1 1/2 cup coconut cream
• Salt to taste
• Black pepper to taste
• 1/3 cup hazelnuts, toasted, lightly crushed
• 1/4 tsp red pepper flakes, optional
• Chives, cut into 1″ batons

Directions:
1. Preheat 400 degrees F with the rack in the middle. Wash and peel kabocha squash with a
vegetable peeler.
2. Cut the squash in half and scoop out the seeds. Cut squash into wedges and toss in
olive oil and kosher salt.
3. On a rimmed baking sheet covered with foil, arrange squash in a single layer and
roast for 30 minutes, giving them a flip halfway through.
4. While the squash is roasting, make your infused cream by mixing coconut yogurt,
Flex TONIC, and maple syrup together in a bowl. Cover and refrigerate until ready to
serve.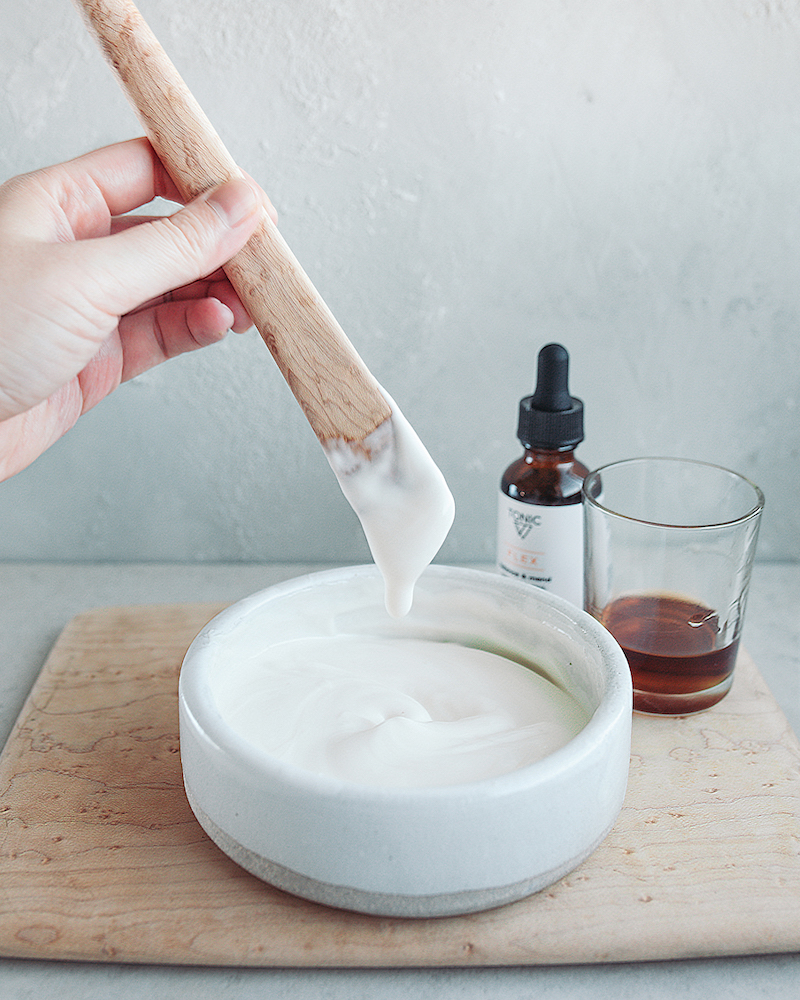 5. In a large pot over medium high heat, add olive oil and shallots. Saute until
translucent and add roasted kabocha squash and vegetable broth. Simmer for 10 minutes.
6. Blend the ingredients until smooth using an immersion blender or transfer into a
traditional blender to puree.
7. Pour back into the pot and add coconut cream. Stir frequently while it comes back
to a boil. Remove from heat and salt and pepper to taste.
8. In a small bowl, toss toasted hazelnuts with a little salt and optional red pepper
flakes.
9. Serve in 4 soup bowls and drizzle infused coconut cream on top and garnish with
seasoned hazelnuts and chives.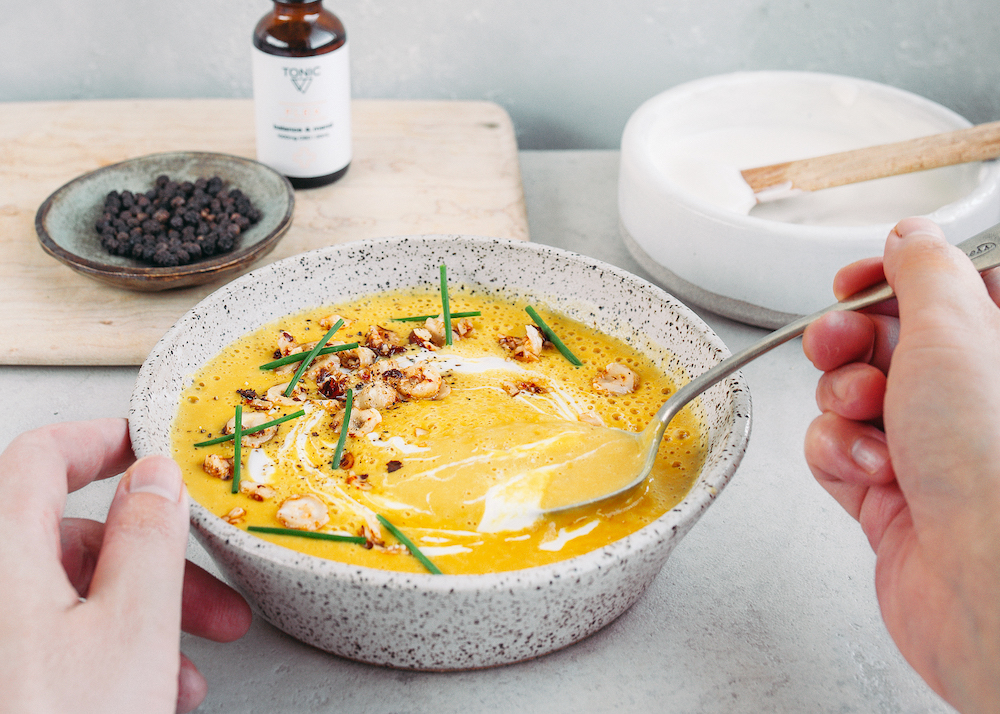 ---
Meet Monica Lo, Founder of Sous Weed
Monica Lo is a creative director and photographer working to change public perception of cannabis users. She is the creator of Sous Weed® and a recipe contributor at KQED Bay Area Bites. Monica shot and styled for the award-winning Sous Vide at Home and Sous Vide Made Simple cookbook with Penguin Random. She also has photography published in Ganja Yoga with Dee Dussault and Harper Collins. Monica has a chef feature and recipe published in the Edibles: Small Bites for the Modern Cannabis Kitchen cookbook with Chronicle Books and in the spring of 2020, she will have a chef feature in The Ultimate Guide to CBD by Jamie Evans and Fair Winds Press.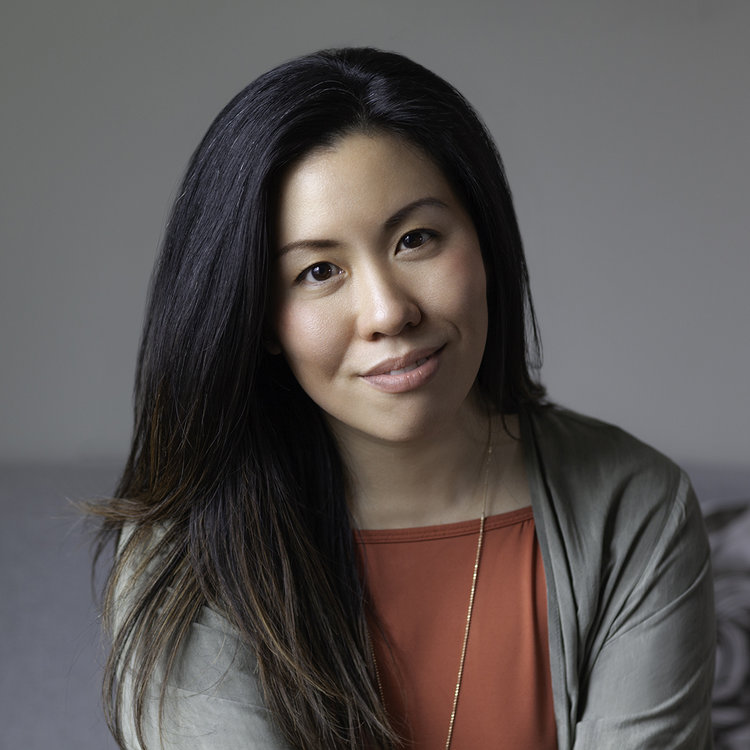 Visit sousweed.com for more delicious, infused recipes from Monica!